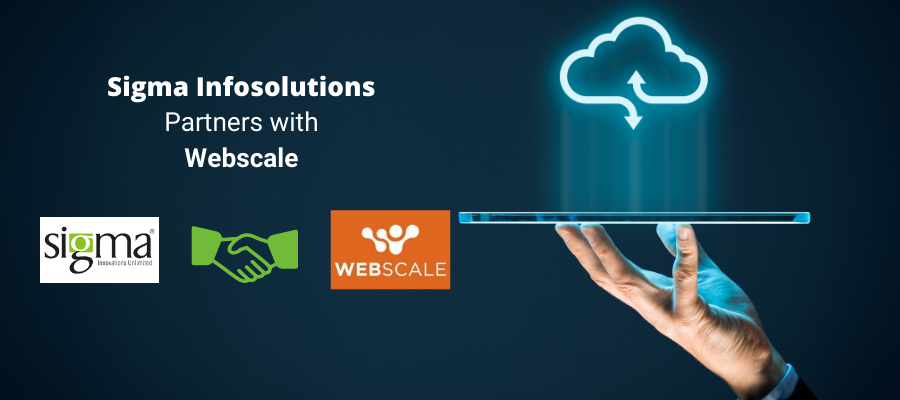 Irvine, California – Aug 27, 2021
Sigma Infosolutions is pleased to announce its partnership with Webscale, the cloud platform for modern commerce, and the leader in cloud delivery, automation, and management for global eCommerce businesses. Through this strategic collaboration, Sigma Infosolutions aims to address the eCommerce segment's most critical needs and set a new standard in the seamless design, deployment, and management of storefronts for the B2B and B2C customers. With the Webscale cloud platform, customers can now automate many daily tasks around cloud security, auto-scaling, performance optimization, and continuous deployment and integration.
Unlike traditional delivery solutions, Webscale is a highly automated, SaaS platform that provides customers with unprecedented control and insight into their infrastructure. A powerful portal delivers 360° visibility into application performance, uptime, and security while providing granular control over how traffic is managed within the infrastructure, improving user experience and conversions. Webscale manages thousands of  online stores in the public cloud, for businesses in 12 countries, including seven of the Fortune 1000.
Describing the strategic objective behind this association, Sandeep Phophaliya, Director – Business Development of Sigma Infosolutions, said, "Together, we will support thousands of storefronts in the public cloud, providing a comprehensive solution for building and managing high performance, cost-effective, infinitely scalable, and secure multi-cloud infrastructure that will scale with their business. Our partnership will help in achieving common objectives by delivering best-in-class service and support to joint customers with shared values of a customer-first approach." He added, "We work with over 200 e-commerce companies globally and believe that this solution will help our existing clients and will become an important offering for our new clients as well".
Adrian Luna, Head of Strategic Partnerships at Webscale, said: "We're looking forward to getting straight to work with Sigma Infosolutions, delivering seamless cloud deployments that meet the current and future needs of our joint customers."
About Sigma Infosolutions
Sigma Infosolutions (www.sigmainfo.net) is a leading software development company headquartered in Irvine, California with international footprints in India. Sigma Infosolutions caters to dynamic environments where business and technological strategies converge. With its technical & domain expertise and flexible delivery models, Sigma Infosolutions helps clients keep pace with the fast-changing needs of the global market. Sigma Infosolutions is a partner of Magento and Episerver, who are leading providers of Ecommerce Platforms.
About Webscale
Webscale is the world's only cloud platform for the successful delivery of modern commerce applications. Offering enterprise-grade security, predictive scalability, and blazing-fast performance, the Webscale SaaS platform leverages automation and DevOps protocols to simplify the deployment, management, and maintenance of infrastructure. The platform supports omnichannel use cases across a variety of eCommerce platforms and architectures, including headless, progressive web applications, self-hosted, and fully hosted commerce clouds. Deployed in multi-cloud environments, including Amazon Web Services, Google Cloud Platform, and Microsoft Azure, Webscale powers Fortune 1000 brands including Dollar General, Unilever, Swarovski, Olympus, Regal Cinemas, and thousands of other B2C, B2B, and B2E eCommerce storefronts across 12 countries.
Webscale has offices in Santa Clara, CA, Boulder, CO, San Antonio, TX, Bangalore, India and London, UK.
For Media Contacts: pr@sigmainfo.net